Designer
From RepsGuide Wiki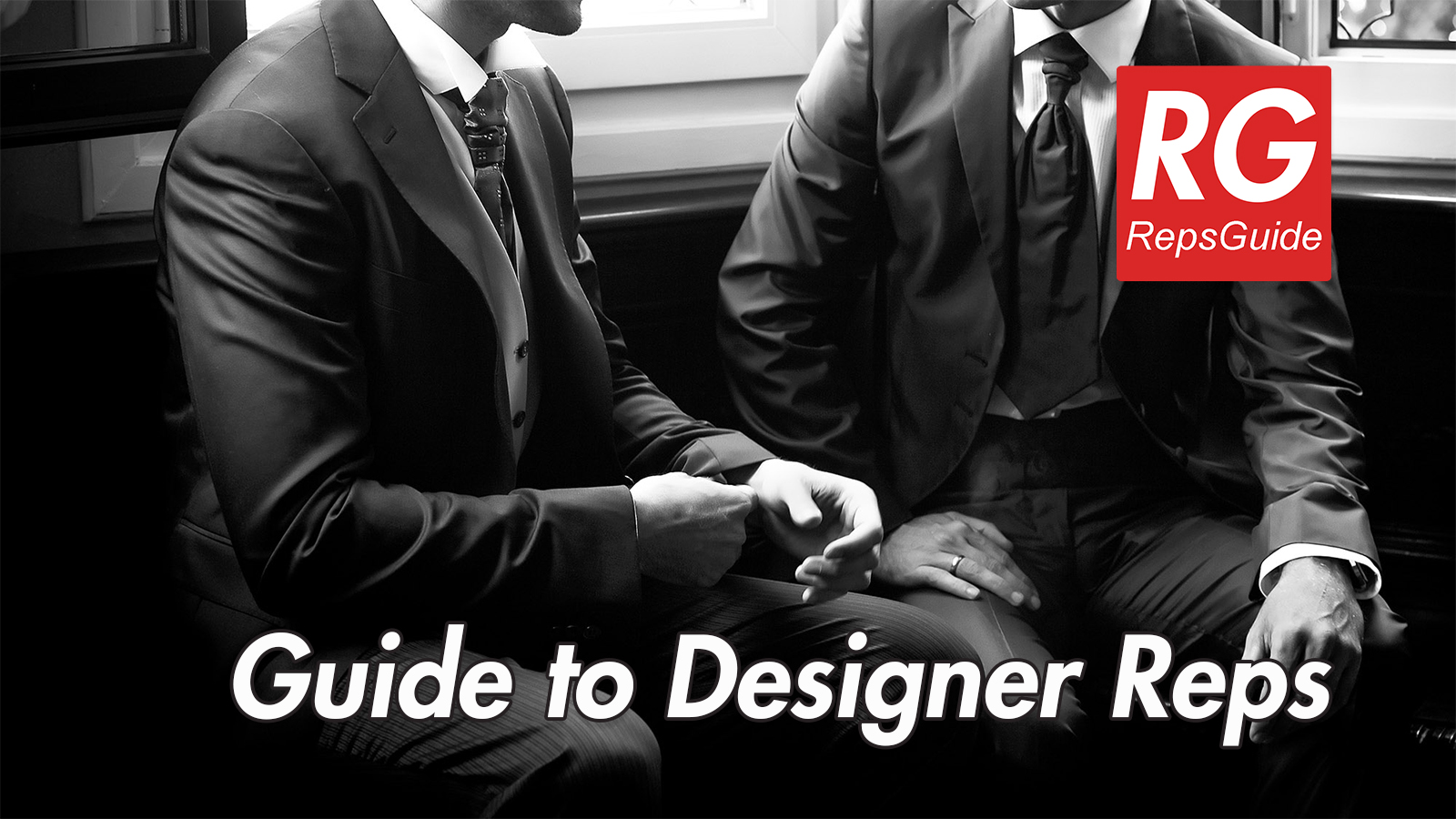 Community Links
Popular Sellers
This list will be frequently updated with the best sellers and agents known for their service and quality.
Clicking on links will redirect you to their respective photo albums or websites where you can browse/order conveniently.
| Name | Items | Store URL |
| --- | --- | --- |
| The Wave | Caps | Link |
| Brother Sam | Accessories | Link |
| Ali | Luxury | Link |
| Alex | Luxury | Link |
| Anisa | Bags | Link |
| Annie | Bags | Link |
| Perfume Guy | Fragrance | Link |
| Queenie | Luxury | Link |
| Thunder | Clothing | Link |
| Weng | Accessories | Link |
Trusted Dealers
Links are subject to change due to stores being shut down sometimes.
0FACSNEAKER - Clothes/Shoes
Instagram: facsneaker
Whatsapp: +852 51751250
Reddit:/r/FACsneaker
007-bags/shoes/clothing
0832Club-massive clothing selection
Whatsapp: +86 153 7147 5870
3125tiger-clothing
Wechat: sangjonny6
Whatsapp:+8618151330113
Instagram:3125tiger
8Billion-high quality clothing
AA Studio-Luxury leather goods and shoes
WeChat: yeah9923
WhatsApp: +86 18620008028
Abigail-Luxury leather goods and shoes
WeChat: 17817315728
WhatsApp: +8617817315728
Aimenpan-clothing
Ali-Luxury leather goods and shoes
Wechat: fy88123
Whatsapp: +86 159 0208 1294
Amy-clothing
Wechat 1: UncleMAO-
Wechat 2: ywx5117
Note: She will give you a purchase link from taobao.
Angela-clothing
Anisa Luxury-bags/shoes/clothing/accessories
Wechat: anisa8a
Whatsapp: +8614750035493
Annie Studio - bags/boots/female
Annie Zhang - Bags
WeChat : JinDian_Factory
WhatsApp: +86 15392087301
Reddit: u/annie-Zheng
Aooko-sunglasses specialist
Whatsapp: +8618679825681
Wechat: scoflic
Art Refuge-clothing
Blackcat Studios-budget clothing/Canada Goose
Blackeyes Fashion-clothing
Whatsapp: +86 186 5068 6160
Brothersam-bags/shoes/belts/accessories
WeChat: Sam_Yin777
Whatsapp: +86 132 4871 9984
Reddit - /u/Brother_sam_yin
Note: Direct seller with Paypal
CEO-clothing
Cloyad-High quality clothing
CND Island-socks and accessories
Darcy-bags/belts/wallets
Wechat: mvpdarcy
WhatsApp: +86 177 2267 9610
Skype: darcywang368
Reddit: /u/qualityproductsonly
Note: Yupoo sometimes has a password.
Davies Clock - High end clothing specialist
Dude9-korean seller
Edward (LatLon) - Sunglasses and Prescription Lens
Essence-Rick Owens specialist
Fang-accessories
Fashion319 - One-stop for all kinds of brands(support direct shipping)
WhatsApp: +86 199 7266 5564
Fisherman-shoes
Feiyu-Canada Goose
Whatsapp: +86 180 5953 5899
Note: The numbers on the Yupoo match with the Taobao store to order.
Geostudio-clothing
GLCLUB-Shoes/bag
Godmaker-clothing
Holygood-clothing
Home-shoes
IOLI-shoes
Invisible Men-Rick Owens specialist
Jelly - Shoes
WeChat: q98634974234
WhatsApp: +8613060719983
Jieyi-clothing
Wechat: JIEYI168Y
Whatsapp:+8618520718693
Kappler-clothing
Kevin-Dior B23 specialist
Note: His store has been taken down a few times. This one may drop.
Koala-Gucci Aces and other designer shoes
Wechat: DC66169
Note: This sellers store was closed and you need to contact them for a taobao purchase link.
Leo - Bags & Quality Womenwear
WeChat:Leo_bag588
WhatsApp: +86 19120637469
Lin-wide selection of shoes
Note: Based on current circumstances within the reddit community, it is recommended you use an agent to purchase here.
Lordkicks-Shoes/bags/belts
LY Factory-best 1:1 overall seller for many brands
Markin-sunglasses
Whatsapp:+86 188 2372 6241
Mei - Footwear, Heels & Bags
Ming - High Quality Bags, Shoes, Canada Goose & Accessories
WhatsApp:+86 13690705890
WeChat: 13690705890
Mike Clothes - Amiri Jeans
MonclerMan - Moncler
Naisan-high end shoes
Nina-bags and accessories
WeChat: wwujiao, wwujiao2, wwujiao3, wwujiao5, wwujiao6, wwujiao8
WhatsApp: +86 185 2926 5101, +86 136 1256 6279, +86 185 2029 6693, +86 189 3431 3152
Skype: ninawujiao
Old Cobbler-highest quality LV and accessories
Whatsapp:+8613104882987
Wechat ID: P99999Lv
Note: This seller is priced high. They offer the most 1:1 Louis Vuitton known to us.
Pearl-shoes
Peltano-high quality leather jackets
Perfume Guy-perfume
Peterchen-shoes
WeChat: peterchen66888
WhatsApp: +86 137 6078 7910
Pink - Designer Accessories
WeChat: pink_lemons
WhatsApp: +86 186 6553 2050
Piritpower-accurate clothing reps
Player Shoes-well known for his Common Projects
Note: 1000's of sales for his achilles low
Python Lab-clothing/accessories
Queenie - Bags/Shoes/Belts/Accessories
WeChat: bling2015
WhatsApp: +8615202090486
Reondistrict-korean store
Note: This is a seller from Korea. You cannot ship to agent.
Rick Owens or "Rick"-very high quality
Shirly-shoes
Sherry-shoes
WeChat: Y895219486
Note: Message her to obtain the password.
Survialsource-jewelry and clothing
Talewest - Shoes & Bags
Note:Self Alexander McQueen factory, adept in 1:1 quality.
The Wave-caps and accessories
Thunder Fashion - Clothing
WhatsApp:+8617085236387
WeChat:tiantaking
Top Acney-Acne seller
Top Givenchy - Givenchy seller
Top Moncler CN - Moncler
Top Moncler X - Moncler
UK Park - Clothing
WeChat: ukpark666 or ukpark888
Vetementsshop-best Vetements
Weng - Luxury Accessories
YOYO - Clothing, Shoes and Luxury Accessories
WhatsApp: +86 13121283098 +86 18578665015
WeChat: yoyo1857665015
Beginner's Guide to r/DesignerReps
The basics
Many of the best replicas in the world come from China. Finding vendors can be difficult, as there are thousands of vendors out there that are willing to sell you something. The difference is knowing where and how to get the best items for your dollars.
To order from China, you will either need to find a vendor/seller that will ship directly to your address, or use an "agent" to collect your items from various vendors and ship them to you all at once. If you are planning to order directly from a vendor, the main sources of communication will be WeChat and WhatsApp. Both of these can be downloaded on any app store. Majority of people use an "agent," as it decreases the likelihood of anything bad happening.
Vendor/Seller: The individual that you actually buy from.
Agent: A middleman or service that will order items for you and take care of the process from start to finish. Agents store your items in their warehouse, provide photos of the items you purchased, and then ship all your items to you at once. They work for you and ease the ordering process.
Finding items and trusted vendors
Almost all replica vendors rely on word of mouth for sales. Reddit is a great way to find vendor shops. So visit Reddit frequently and you will be sure to find some pieces you love. Each reddit post requires a link or contact for the vendor, so this is the easiest way to spot items you want. Many links will be in Chinese, but do not worry, you can just right click and choose "translate to english" on Google Chrome.
There are many trusted seller lists found on Reddit that you can browse and use to spot pieces. Sellers on these lists have provided quality items time and time again and are the easiest to work with.
DesignerReps Trusted Sellers: Luxury Brands, Leather Goods, & Shoes
RepLadies Trusted Sellers: Leather Goods & Shoes, but Female Focussed
FashionReps Trusted Sellers: Streetwear, Luxury Brands, & Shoes
RepSneakers Trusted Sellers: Mostly Hype Shoes Like Jordans
Massive List by /u/sheeraaks: List For Yupoo Sellers
Shipping and avoiding customs
Whether you are shipping directly or with an agent, you will need to think about import taxes. Each country has different rules for shipping without getting hit with import taxes. We recommend you discuss this with whoever is shipping your goods. They have a lot of experience shipping to your country and will know better than anyone else. Any good vendor or agent will inform you about your country's shipping requirements. You can also use the reddit search bar to search your country.
Looking for items on Reddit
There is a function called the Reddit search bar sitting at the top of r/DesignerReps. Basically, you just need to type the brand or item description you are looking for and "sort by new". A second option is to simply search the web for the item you want and add "Reddit" to your search. Most reps will come up on a search.
Brand Guide & List of Stores
Alexander McQueen
The Ultimate Guide to McQ Sneakers Reps // Credit: u/Kariminal99 | Updated July 2019 // Credit: u/Baner424
Acne
The Acne Studios Thread // Credit: u/TheShynola
Balenciaga
Balmain
The Ultimate Guide to Balmain Reps // Credit: u/goyarddon
Canada Goose
Givenchy
Goyard
Guide to Goyard Card Holders // Credit: u/buttzest
Gucci
Louis Vuitton
Margiela
Raf Simons
Saint Laurent
Guide to Teddy Jacket reps // Credit: u/TheShynola

Guide to backpack reps // Credit: u/TheShynola
Thom Browne
Guide to Thom Browne reps // Credit: u/JCB003
Various
Lists of stores
These are suggested by the community. The trusted sellers list can be found here.
Korea
KoreanBuddy's trusted sellers list
More korean stores // 58 Stores
China
Designer store // Givenchy, Moncler, Dior, Bottega Veneta, Prada, etc.)
Designer shoe stores list by u/GoyardParis
High End Taobao store // Womens clothing only
Luxury Counter // Taobao store with Gucci, Dior, Versace, Dries Van Noten, Fendi etc.
Utopia Shoe Shop // Taobao store with rick footwear
Taobao stores list by u/ImWaaal
The Fashion World // Taobao store with SLP, TB, RO, NB, MB etc.
Thom Browne Taobao store // Cheap items
Gucci phone cases Taobao store
Albert Franken // Givenchy, Gucci, Thom Browne among others
Eaae Home // BV, SLP, Gucci, Burberry etc.
Store full of Chanel, Dior, and some Gucci Pendants/Earrings/Brooches/Necklaces
List of some stores sorted by brands
Massive store carrying Gucci, Givenchy, Thom Browne etc.
Massive store carrying floral designs
Store with brand clothes hangers and brand dust bags (SLP, Dior, D&G, Fendi, Balenciaga etc.)
A Yupoo/WeChat seller that sells about a million different shoes
Designer polo shop // Bottega Veneta, Moncler, Gucci, Versace, Armani...
Store carrying Givenchy, Valentino, Burberry...
Designer Shoe Store // Hermès, Berluti, Chanel...
Store with a lot a lot of designer jackets // Gucci, Thom Browne, Canada Goose, Valentino etc.
Silver Shop carrying Gucci Rings, earrings/bracelets, Chrome Hearts and other goodies
Store with lots of sneakers & belts // Gucci, LV, Versace, Prada...
Rep Watch store with tons of Monblanc pens
Small store carrying SLP, Gucci, Thom Browne...
Taobao store that has many 2018 designer pieces
Top tier factory (Gucci items mainly)
Prada store with detailed pictures of products
2 Taobao stores carrying Bottega Veneta
Store with a lot of Gucci, Givenchy, Prada, Versace, etc.
Store with a large shirt collection
Lists of finds
2017
Avant-garde items found by u/adrianzimmer42
Another list of finds by u/GoyardParis
Haider Ackermann finds list by u/geekbrandon
Huge finds list by u/GoyardParis (part 1)
Huge finds list by u/GoyardParis (part 2)
Raf Simons finds by u/adrianzimmer42
Various finds list by u/HALFAPERC // Gucci, Moncler, Fendi, MMJ, Givenchy etc. (part 1)
Various finds list by u/HALFAPERC // Moschino, Gucci, SLP, Kenzo, Balmain etc. (part 2)
34 designers, 130+ items list by u/GoyardParis
Gucci finds list by u/Astalarepgod
Gucci finds list 2 by u/Astalarepgod
Various finds list by u/Astalarepgod // Acne, Burberry, Moncler, Prada, Gucci, Fendi, Givenchy, Thom Browne...
Various finds list 2 by u/Astalarepgod
Various finds list 3 by u/Astalarepgod
Various finds list 4 by u/Astalarepgod
Various finds list 5 by u/Astalarepgod
Huge finds list by u/Astalarepgod
Huge finds list 2 by u/Astalarepgod
Various finds list by u/ferrarimustafa // Prada, Versace, SLP
Small list by u/chambers11 // Prada vests, Gucci shorts + Green tracksuit, Givenchy, LV shirt, Gucci ring etc.
New list of finds by u/adrianzimmer42
Another new list of finds by u/adrianzimmer42
List of shopping bags by u/musafiroz
Women's AliExpress list by u/devler
Women's AliExpress list 2 by u/devler
New list of finds by u/adrianzimmer42 (November)
New list of finds by u/adrianzimmer42 (December)
2018
Various finds list by u/Okunev // D&G, SLP, MCQ, Prada...
Small list by u/izanami7 // Gucci shorts, Balenciaga, Vetements...
Women's Taobao Finds by u/Whitedishes // Moschino, For Love and Lemons, Chanel, Wildfox, Gucci...
Baby/Kids Designer clothes list by u/gunchester // Gucci, Fendi, Burberry, D&G...
Women's AliExpress list 3 by u/devler
Gucci Master List with multiple sellers per piece V1.0, by u/bthundergun
Small list by u/DELTA_ONYX // Givenchy, Gucci, Cartier
Small list by u/Okunev // D&G, SLP, Givenchy...
Small designer belts list by u/akaJako// Gucci, Hermès, Burberry
New list of finds by u/adrianzimmer42 (January)
List of designer jewelery by u/BanterMaster420 // Tiffany, Cartier, Louis Vuitton...
Budget basics list by u/adrianzimmer42
Raf Simons' SS18 Collection list by u/jrmio
New list of finds by u/adrianzimmer42 (March)
Small list by u/Gilllfred // Prada, Fendi, Canada Goose, Moncler, Versace
Various finds list by u/mormonboners // Acne, CDG, Valentino, Prada, SLP, Gucci...
Small list of budget Balenciaga bags, accessories and clothing by u/SaintLaurentParys
Prada SS18 T-Shirts list by u/todas368
New list of finds by u/adrianzimmer42 (April)
Various finds list by u/OW-NIGGA // Acne, Balenciaga, Prada, Raf Simons, Undercover...
Gucci Master List with multiple sellers per piece V2.0, by u/bthundergun
Some Dior finds by u/DandyWasbeer
Burberry double-collared coat and jackets finds by u/muscular_poops
Acne Studios finds list by u/childrenovmen
Louis Vuitton "Titanium" list by u/GuhdKed
MONCLER Master List by u/bthundergun
Burberry finds list by u/GuhdKed
Burberry Master List, by u/bthundergun
Gucci Master List with multiple sellers per piece V3.0, by u/bthundergun
FW/Tech/Outerwear List, by u/OnlineRoadman
Small Hedi Slimane Saint Laurent List, by u/Jellyho
2019
Visvim Small Finds List by u/gx36000
Weidian and Taobao Finds List (T-shirts, wallets, accessories..) by u/KublaiK
Alyx Finds List Pt. 1 (T-shirts, sweaters, accessories...) by u/VideoGenie
Weidian and Taobao Finds List Part. 2 by u/KublaiK
Dior Finds List by u/VideoGenie
Raf Simons Finds List by u/wbstrd
Store With Yohji Yamamoto, Julius, Boris Bidjan Saberi... by u/thrashbat
Store with Rick Owen's Jackets, T-shirts, Pants, Shoes, etc. by u/hinotoritezuka
Louis Vuitton Master List with multiple sellers per piece V1.0, by u/bthundergun
Accessories & jewelry list, by u/connoryuh
Alyx Finds List Pt. 2 by u/VideoGenie
Small Rick Owens, Maison Margiela and Guidi Finds List by u/edliwj
Gucci Mid 2019 Master List, by u/bthundergun
Cav Empt Shirts and Random Jewelry, by u/DerpBaggage
Mens t-Shirts and summer dresses (Burberry, Prada, LV, Gucci, Dior...), by u/FDimple
Acne Studio Finds List, by u/nachooooooooooooo
Various finds list by u/ozenfvnt (Alyx, Kiko Kostadinov, ACW, etc.)
Huge Gucci Finds List Pt. 1 by u/ClassicWoodpecker
Sneakers Finds List by u/ilovesupream
Enfants Riches Déprimés (ERD) Finds List by u/MASTODONfw16
Huge Gucci Finds List Pt. 2 by u/ClassicWoodpecker
Huge Maison Margiela Finds List by u/Eazy9815
Glossary of Common Terms
QC: Quality Control (QC for short) is talking about pictures that are posted from an agent of an item that was ordered. Users will post these if they're unsure about the quality and would rather have someone else take a look at them if they're good enough.
LC: Legit Check (LC for short) Much like the name states, this is a tag used for posts requiring a legit check. Legit checks are a great way of finding out if a item you're purchasing is authentic or not.
GP: Guinea Pig (GP for short) Guinea Pigging is much like being a test subject. In this instance you will be the first person to order a seller's new item. This means you'll be the first to get pictures of their product and oftentimes you'll post them to be checked for quality by the community.
FIND: Much like the name states. Posts with this flair are often linked to new products that haven't been posted before.
W2C:: Where To Cop (W2C for short) W2C refers to the search for a desired item. Oftentimes will be linked with retail images for an example.
1:1: One to One (1:1 for short) 1:1 refers to a perfect replica. However, not many exist and oftentimes you won't be able to get these as they're sold out.
GL: Green Light (GL for short) GL Refers to a user who has given their approval of a QC post.
RL: Red Light (RL for short) RL Refers to a user who has given their disapproval of a QC post.
B&S: Bait & Switch (BS or B&S for short) B&S Refers to a seller who has advertised their product and sent goods that are different from advertised.
PSP: Pre Shipping Pictures is just another way of saying QC. PSP is mostly used over at r/repladies.
Gen: Genuine item aka authentic. This is a term often used over at r/reptime. People refer to "Gens" when they are discussing retail items.
Haul: A bunch of replica items shipped at once is called a haul or hauling. Hauling is the recommended way of ordering replicas, as it is typically a better bang for your buck when shipping.
Massive List of Guides on Reddit
A Complete Visual Guide to Buying Replica Designer Clothing
Introduction: The biggest and oldest of all trades
In the world of designer replicas, no other item is produced and sold more than clothing. For a trade that took off nearly half a century ago, there could be at least 1,000 factories out there today producing hundreds of thousands of different styles every year.
Contrary to other sides of the repworld for example where factories only deal with a handful of individuals, clothing is pretty much a wide open market: most factories are open for business and will take orders from anyone knocking on their doors. By factory, we refer to places that sell finished/ready to sell items or workshops that can reproduce any design upon demand. Thanks to this open door policy, many (re)sellers (if they are doing this on their own without any help) start their businesses selling clothing: the most popular styles are easy to find, shipping is fairly cheap, there's a lower risk of seizures and most important the profits are good.
In DHgate, there are mainly 2 types of sellers that you will come across with: 1- sellers that deal directly with specific factories (mostly for high quality items);
2- sellers ordering from a wholesale website or physical warehouse location/ middlemen (mostly budget/mid tier items).
Shopping for designer replica clothing can be challenging at times; especially if you are looking for a specific piece at the best possible quality. Always shop around and be patient! Sometimes, good batches are simply not available at the moment. Instead of making an impulsive purchase and risk getting something below your expectations, save yourself some trouble by whether shopping other styles or your money for a later time. Also, always remember that every single seller is a reseller. There are no factories selling directly to a consumer in DHgate (or even elsewhere). Listing prices can vary dramatically from one seller to another or even from one day to another. With these key points in mind, the goal of this visual tutorial will be to present you with some basics of the trade while offering some tips on what to look out for and what to avoid.
Disclaimer: The following guide aims to provide its readers some general guidelines and tips when shopping for designer replica clothing in DHgate. This is not a definitive or ultimate guide. All the information provided comes from my own shopping experience and interaction with different DHgate sellers throughout the years.
What to expect and things to know before ordering
Sizes
Sizing is one of the most frequently asked questions when it comes to buying. Finding the right size can often be a coin toss. Size charts are normally available; but always beware that they are not 100% accurate. As a 101 rule, the higher the quality the closer to retail the item will be: for example, budget pieces will almost always run smaller (based on Asian sizes); while high quality ones will be true to size or close to reflect the retail world.
If you are not sure which size to pick, ask the seller for suggestions or have him/her try it while asking for their measurements. This shall give you a good idea of how close or far you are from your desired size.
Availability and sales: a seasonal affair
When it comes to availability, rep clothing follows 2 general rules:
1) Budget and some mid-tier quality items are massively produced and available all year long for most of the popular styles;
2) High quality or (near) 1:1 items are produced in very limited quantities and released during seasonal cycles (based on the Northern hemisphere/Chinese seasons). As a result, timing is key when shopping for these: if you find your desired item at the right price from a seller that you deem trustworthy, buy it before it sells out; as that item may never ever be replicated again.
For the more popular styles, the first released batches are normally the highest graded ones during the production run of that item. As an example, if you are looking for a heavy full winter jacket, late October to early December would be the best time to buy.
Just like in the retail world, rep factories always have clearance sales for some specific end of season items in order to make space for the new collections. For example, towards the end of the winter season or start of spring (March to May), some high quality winter jackets may be sold at very discounted prices. These 'liquidation' items are never listed by the mainstream sellers in DHgate.
Instead, new popup stores randomly open up selling these overstock or end of season items: if you are lucky enough to find a good seller and willing to order from a store with very few transactions, then you may have found a gold mine! Just beware that these stores tend to remain open for a very brief period of time. For the more experienced buyers, you can always contact your favourite seller(s) asking for these. They may be able to pull some nice deals out of their hats!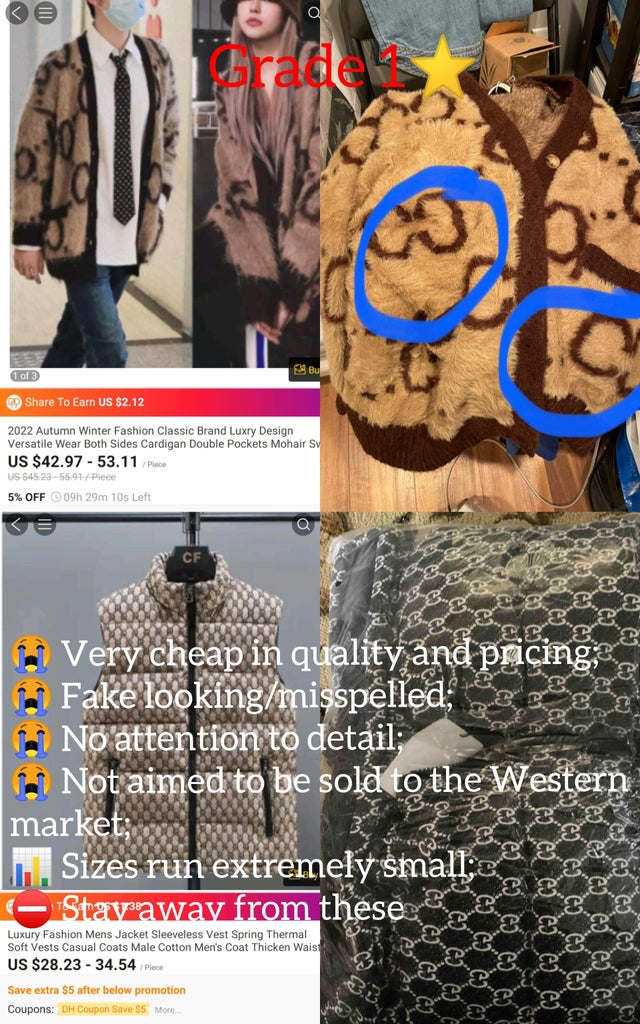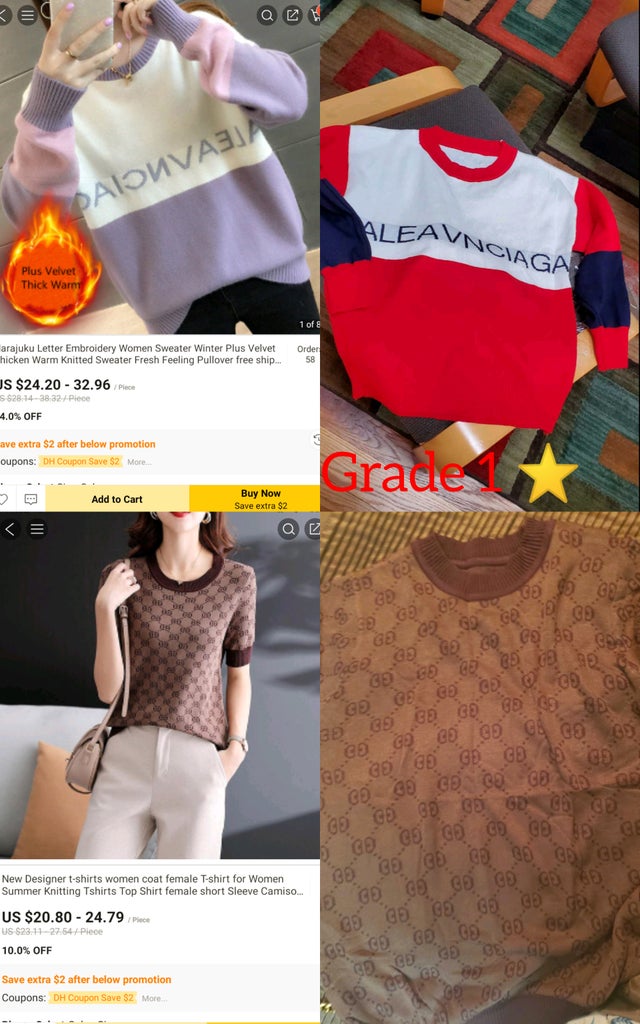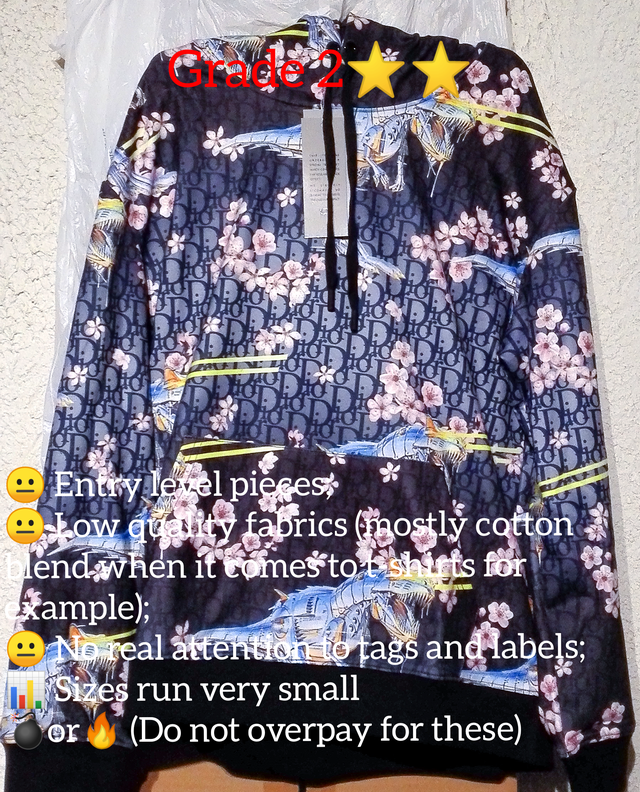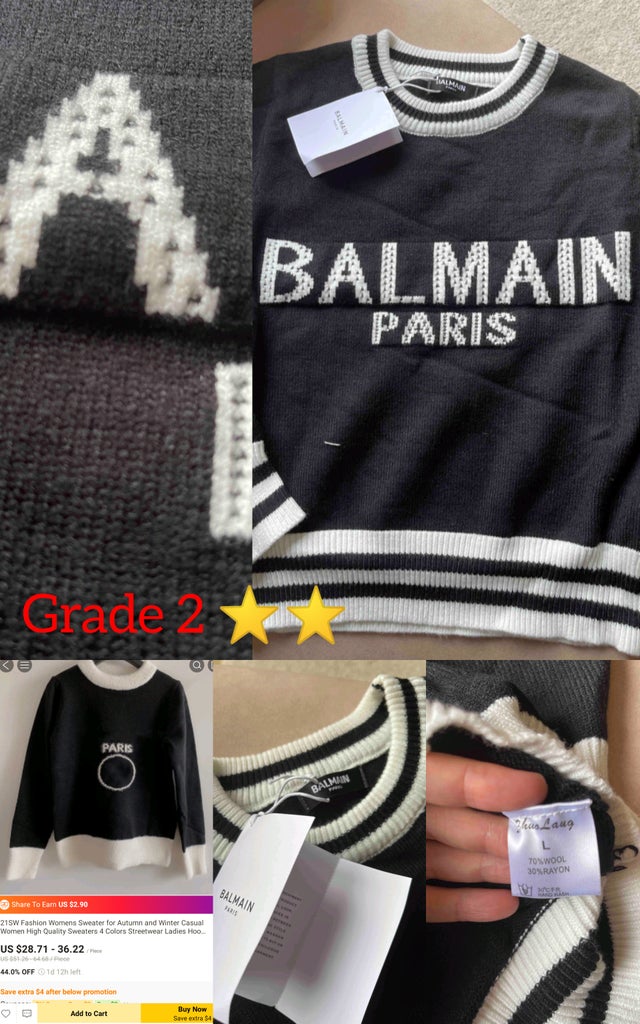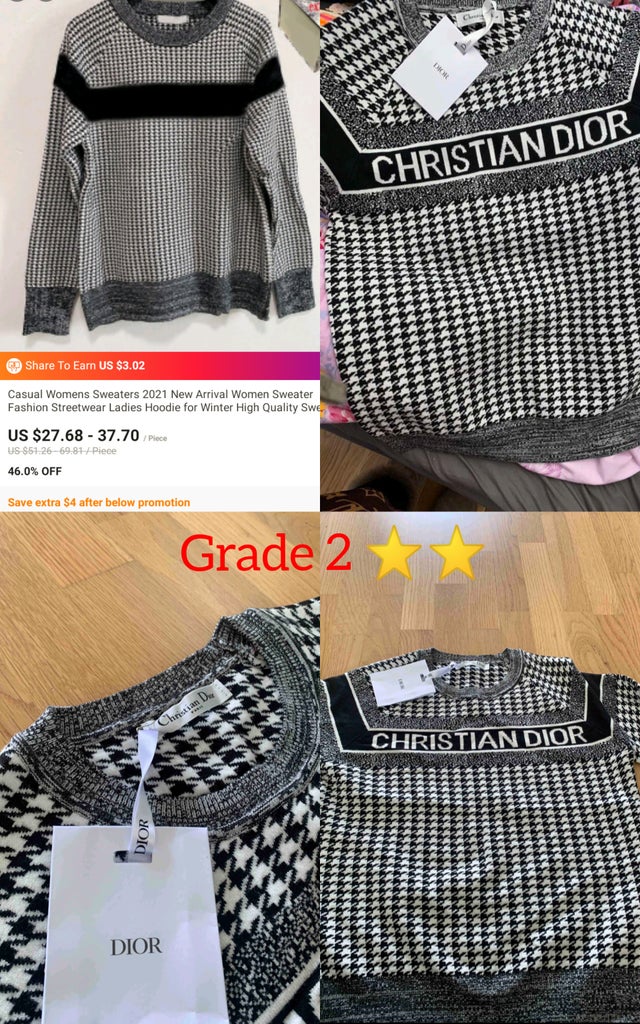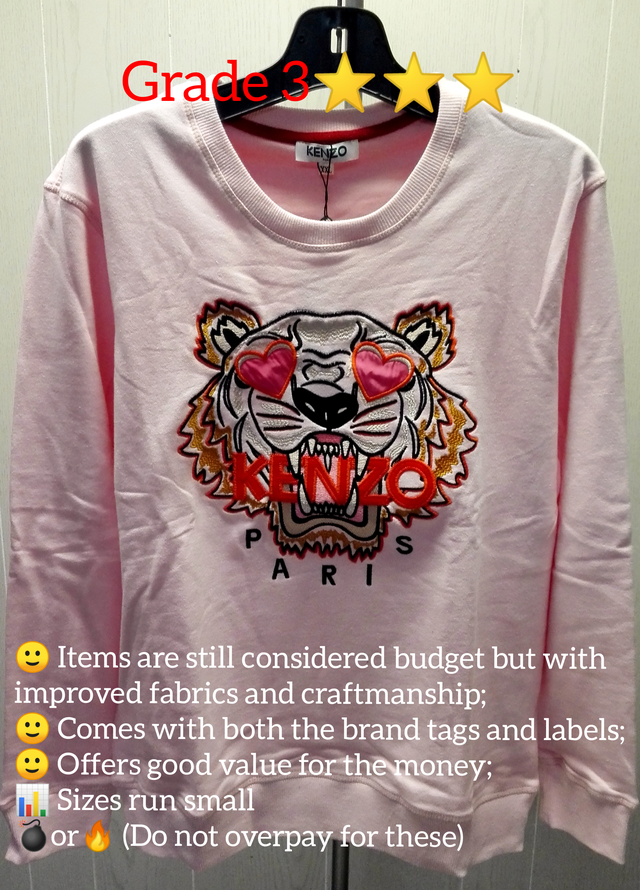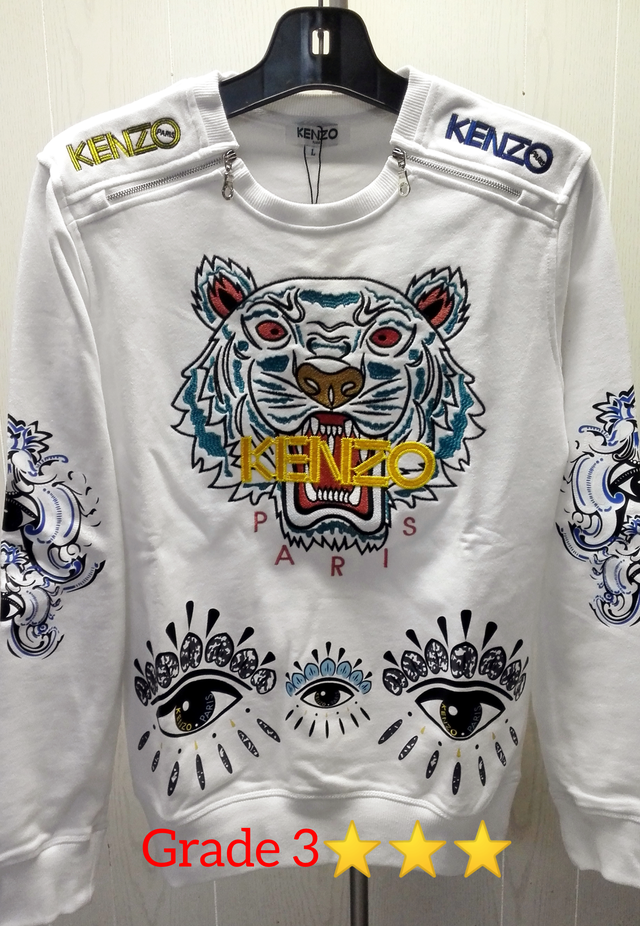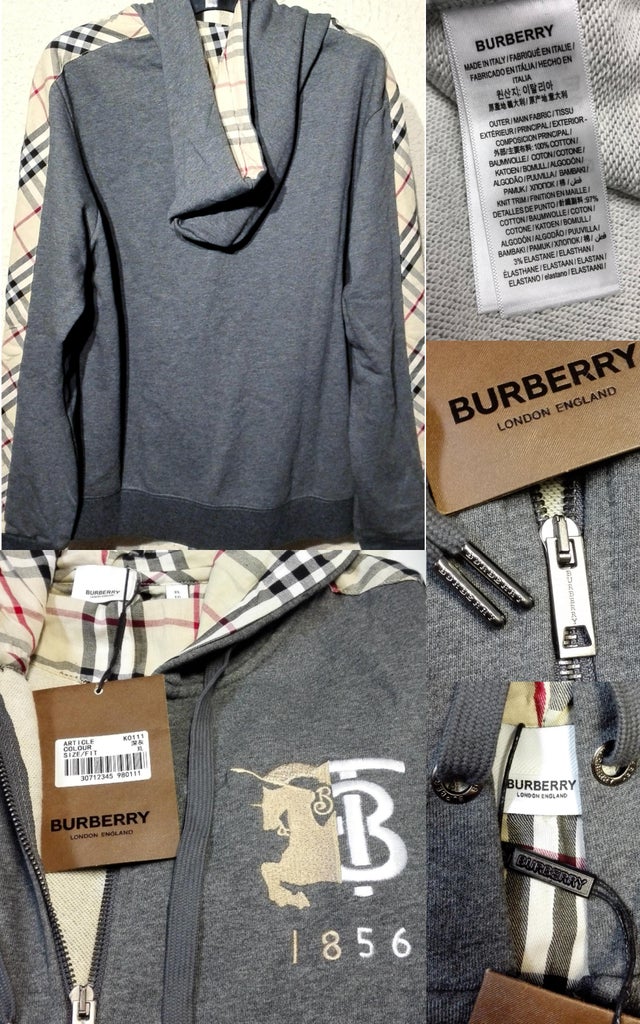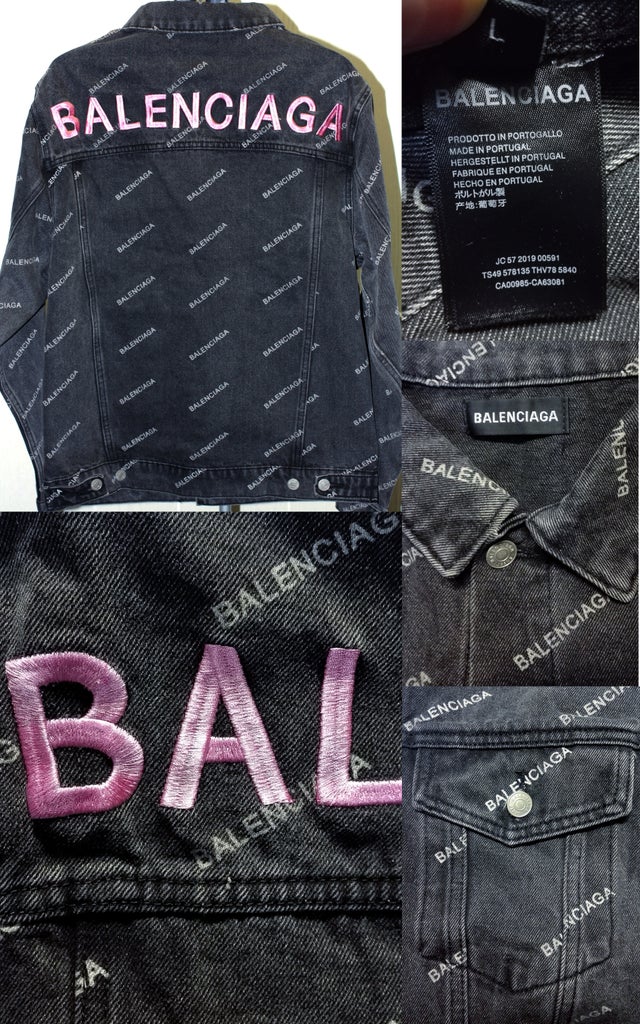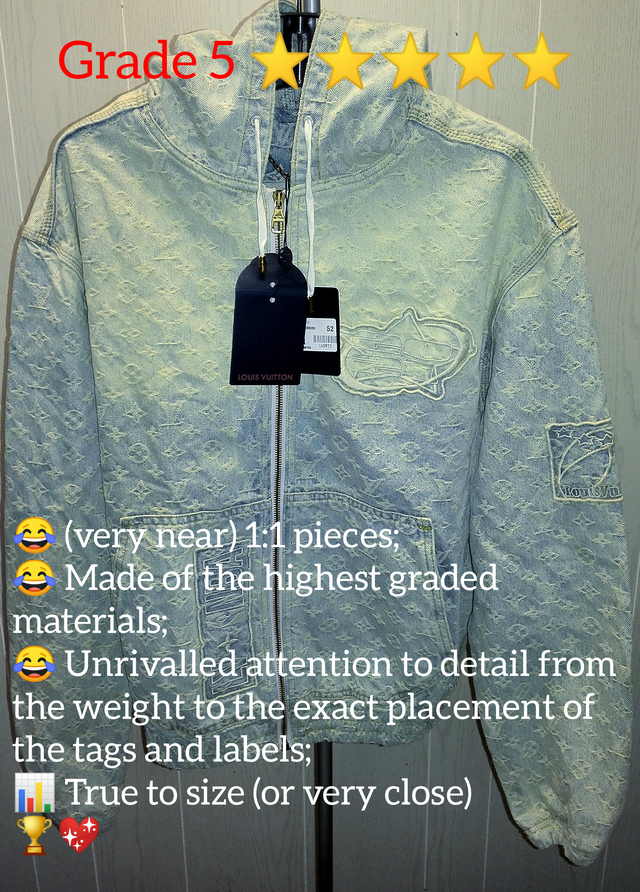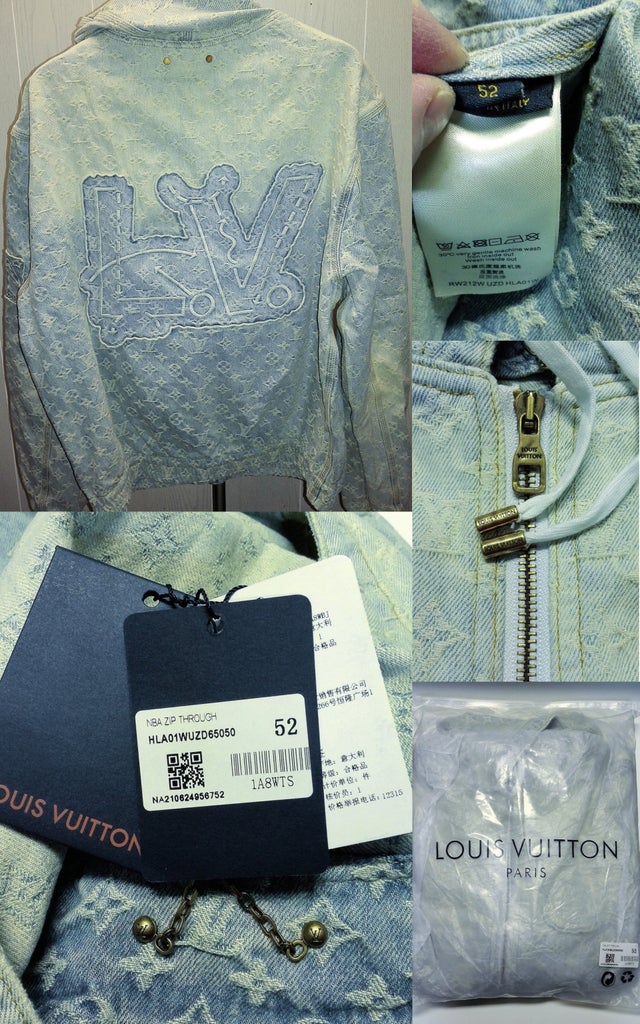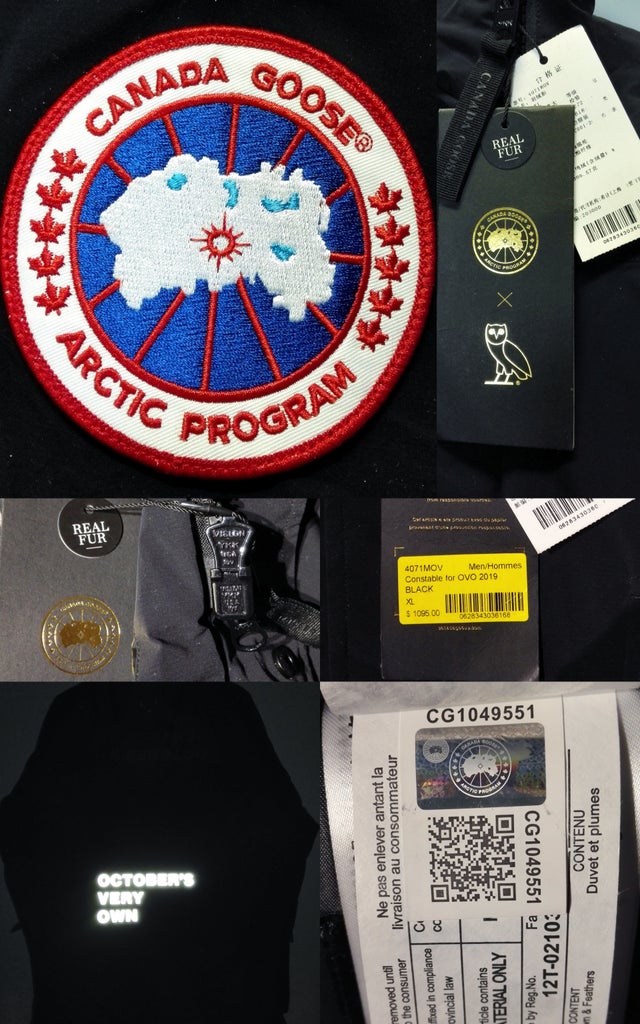 Women's Clothing
Has quite possibly the largest selection of styles in all of the fashion repworld.
In DHgate, sellers are very widespread and each only seems to carry particular styles. They may order a specific item upon request from a wholesale website or middlemen, but prices may be high with unchecked quality;
Sizes can be an issue for items like dresses, one pieces and skirts as factories rely on different measurements;
High quality items are extremely limited, as most of the stock is sold to the Asian market first;
Pro tip: Because of the great number of styles available, you may only find a particular style in one graded quality. High quality coats and jackets are an exception, since they are by far the most profitable to sell.
Children's clothing
Only 2 types of quality are produced: cheap budget and high quality.
They cost as much as adult clothing with some high quality ones costing even more. For this reason, most DHgate sellers only list the cheaper batches for sale. Higher quality ones are also available, but listings are rare with very few buyers and reviews;
Pro tip: Depending on the child's age (baby, toddler or teen), it may not be worth it to pay top dollars for something that will be worn only a few times. For budget items, other websites dedicated to kid's clothing offer very similar quality in terms of fabrics and craftsmanship (therefore, you will only be paying a premium to have the brand's name).
On the same level, high quality items are rarely 1:1s with the vast majority being fantasy items. Their quality is great overall, but the high prices may not justify the investment, since you can easily find comparable and more affordable branded items in the retail world.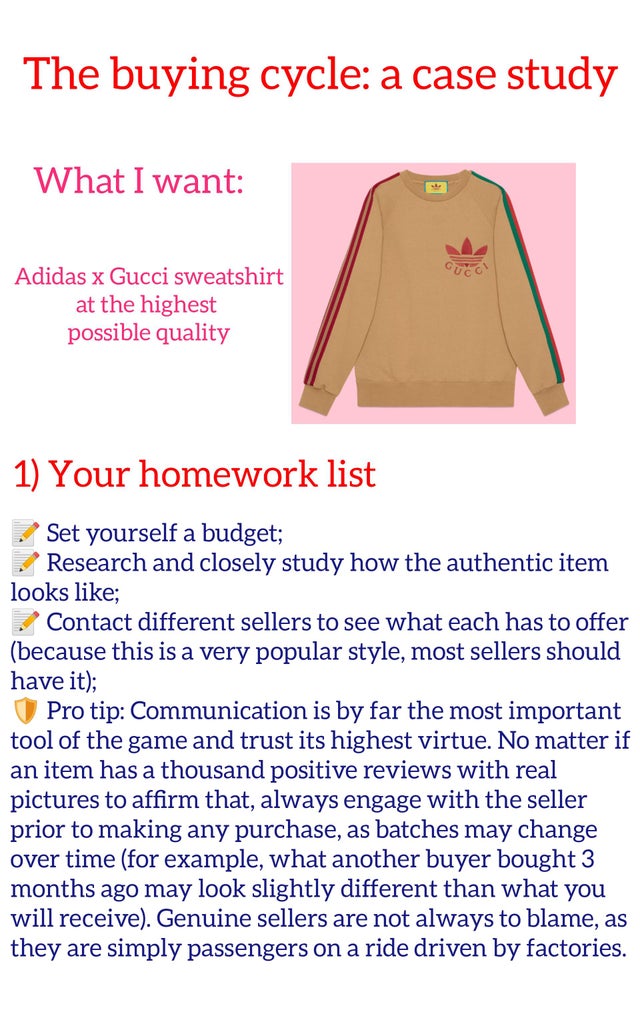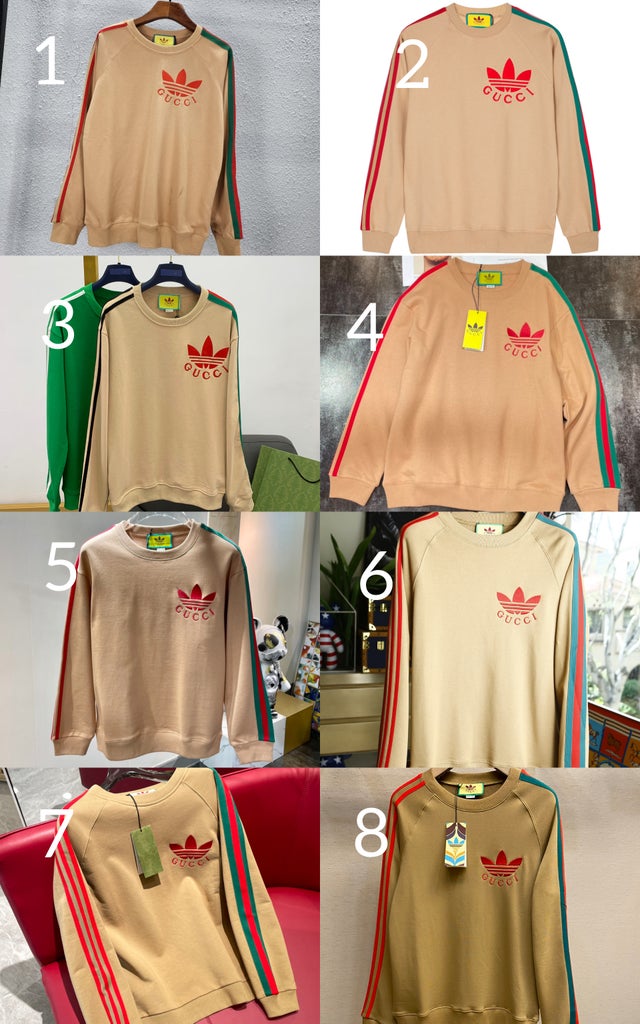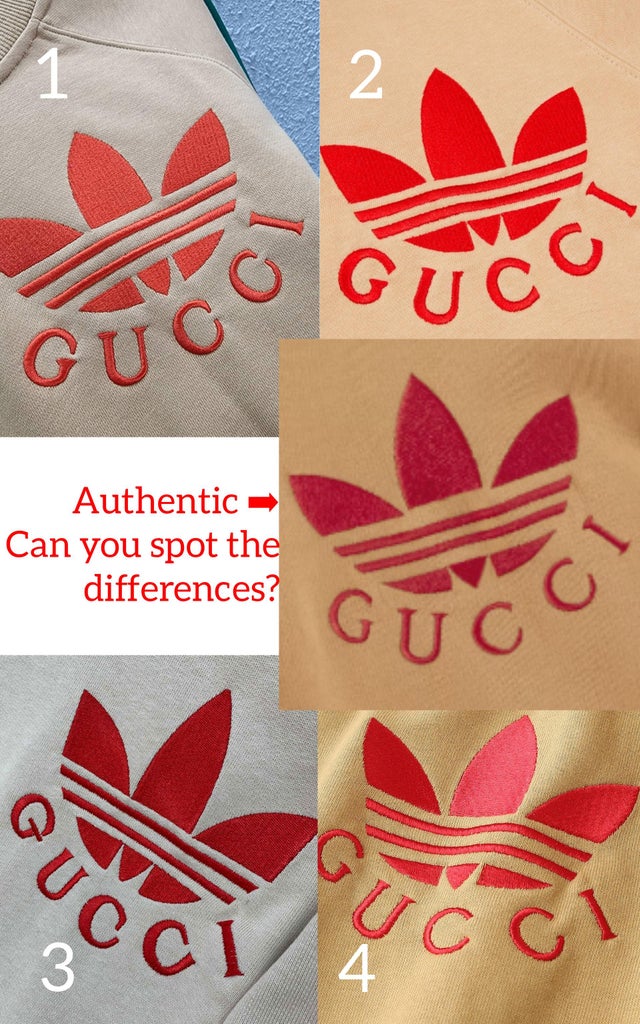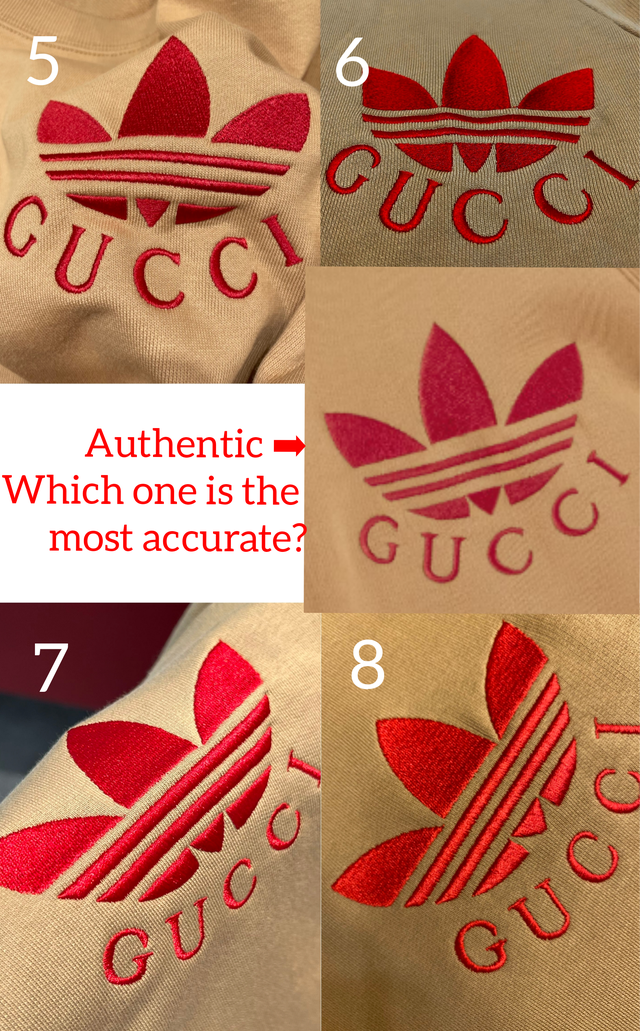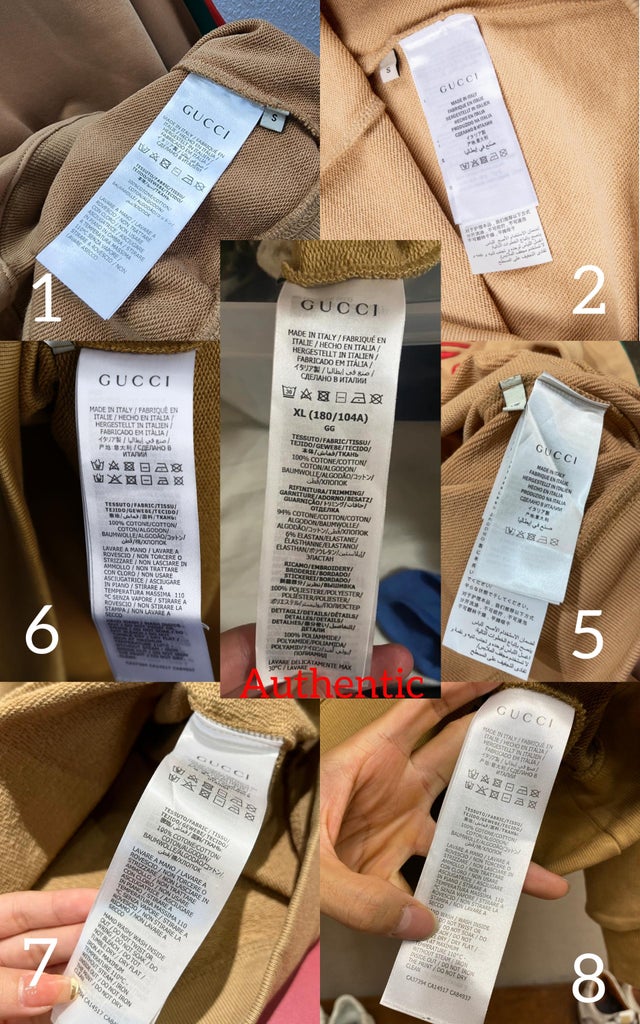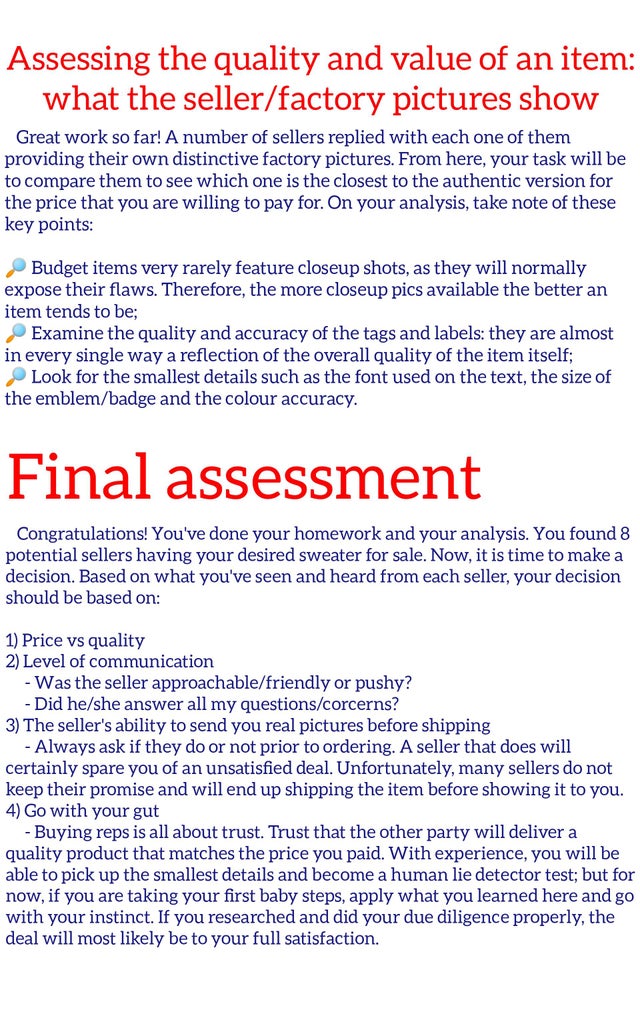 Assessing the quality and value of an item: what the seller/factory pictures show
Great work so far! A number of sellers replied with each one of them providing their own distinctive factory pictures. From here, your task will be to compare them to see which one is the closest to the authentic version for the price that you are willing to pay for.
On your analysis, take note of these key points:
Budget items very rarely feature closeup shots, as they will normally expose their flaws. Therefore, the more closeup pics available the better an item tends to be;
Examine the quality and accuracy of the tags and labels: they are almost inevery single way a reflection of the overall quality of the item itself;
Look for the smallest details such as the font used on the text, the size of the emblem/badge and the colour accuracy.
Final assessment
Congratulations! You've done your homework and your analysis. You found 8 potential sellers having your desired sweater for sale. Now, it is time to make a decision. Based on what you've seen and heard from each seller, your decision should be based on:
1) Price vs quality 2) Level of communication
- Was the seller approachable/friendly or pushy?
- Did he/she answer all my questions/concerns?
3) The seller's ability to send you real pictures before shipping
- Always ask if they do or not prior to ordering. A seller that does will certainly spare you of an unsatisfied deal. Unfortunately, many sellers do not keep their promise and will end up shipping the item before showing it to you.
4) Go with your gut
- Buying reps is all about trust. Trust that the other party will deliver a quality product that matches the price you paid. With experience, you will be able to pick up the smallest details and become a human lie detector test; but for now, if you are taking your first baby steps, apply what you learned here and go with your instinct.
If you researched and did your due diligence properly, the deal will most likely be to your full satisfaction.