Jewelry
From RepsGuide Wiki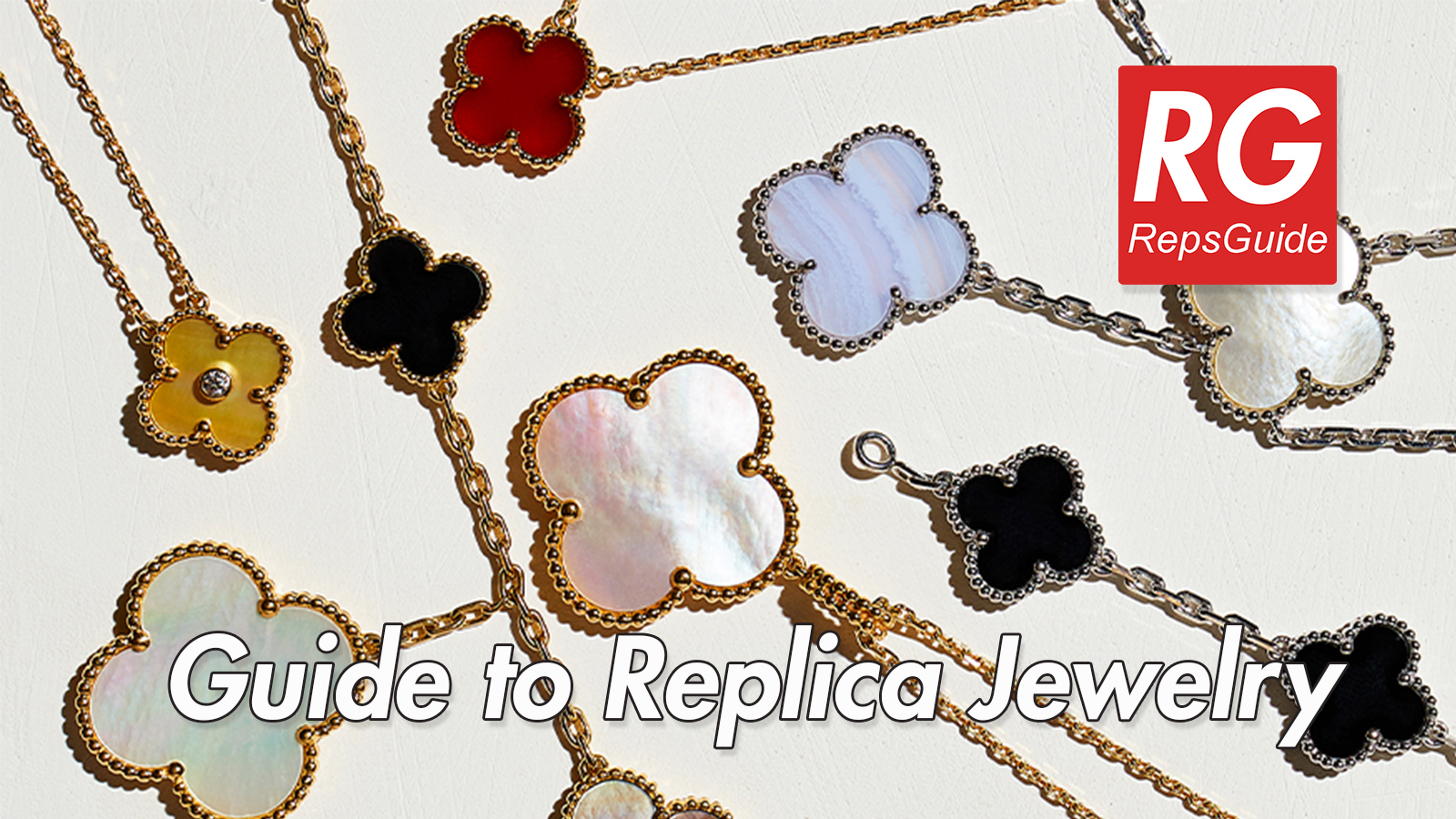 Community Links
Sellers List
Always do your own research and due diligence before buying online.
This list is a work in progress.
Intro to Replica Jewelry/Jewellery
Where to buy general replica jewelry?
For our purposes, we're going to pretend that a few of the big web sites don't exist. There are lots of sites out there that buy stuff from the web site I'm going to show you how to buy from and then sell for double the price. But you're not a sucker. You're going to buy from a weird ass Chinese website and get shit for the low.
There's Aliexpress which I do not recommend for several reasons. It's very tempting to buy stuff from Aliexpress but you will get burned. First, the site is Western-facing which means the pressure is on the site's operators to crack down on illegal activity. Aliexpress is widely used around the globe. When there's good fakes on Aliexpress and the link gets shared, the link gets taken away. The administrators of the site need to cover their asses and take down things that get reported. So the stuff that stays up usually isn't very good.
There's Dhgate which has a lot of good options for if you only want to buy one thing.
There's TaoBao. This is the site we'll be talking about. Here's the catch though, it's going to be a little tricky. If you don't want to put in a little work to save a lot of money, then give up on reps right now and save up for legit pieces.
Then there is Weidian. This site is very similar to TaoBao in the sense that they have replica goods and it is a bit tricky to get started. However, you can find many good items here.
I clicked on that TaoBao link and it's all in Chinese. How am I ever going to figure this out?
Chill, we got this. For now, we're not going to worry about navigating TaoBao much. That'll come later after you've done a couple orders. Use Google Chrome while rep shopping and utilize the full-page automatic translation by clicking on the translate button in the URL bar. My goal right now, however, is not to overwhelm you more because you're probably already overwhelmed so don't worry if the site looks really confusing even after translating it.
Common Terms Glossary
QC: Quality Control (QC for short) is talking about pictures that are posted from an agent of an item that was ordered. Users will post these if they're unsure about the quality and would rather have someone else take a look at them if they're good enough.
LC: Legit Check (LC for short) Much like the name states, this is a tag used for posts requiring a legit check. Legit checks are a great way of finding out if a item you're purchasing is authentic or not.
GP: Guinea Pig (GP for short) Guinea Pigging is much like being a test subject. In this instance you will be the first person to order a sellers new item. This means you'll be the first to get pictures of their product and often times you'll post them to be checked for quality by the community.
FIND: Much like the name states. Posts with this flair are often linked to new products that haven't been posted before.
W2C: Where To Cop (W2C for short) W2C refers to the search for a desired item. Often times will be linked with retail images for an example.
1:1 One to One (1:1 for short); 1:1 refers to a perfect replica. However, not many exist and often times you won't be able to get these as they're sold out.
GL Green Light (GL for short): GL Refers to a user who has given their approval of a QC post.
RL Red Light (RL for short): RL Refers to a user who has given their disapproval of a QC post.
B&S Bait & Switch (BS or B&S for short): B&S Refers to a seller who has advertised their product and sent goods that are different from advertised.
Where to buy Moissanite aka Replica Diamonds
This is by no means a complete or comprehensive list of 'recommended' vendors. Please do your own research to determine your own comfort level. Keep in mind that everyone has varying levels of standards and expectations. Users here can always provide advice, suggestions, and guidance. But ultimately, it is your money, and your decision. Do your research. Source
China
All Chinese companies below are capable of creating custom ring designs, as well as other jewelry. They also cut their own moissanite and colored moissanite's. There are slight differences in the quality and appearance of the different cuts and shapes they create. e.g: some may excel at antique cuts or fancy/elongated shapes, while others may be more comfortable with traditional or basic shapes/cuts. Please search the sub for prior projects to see their work. We advise to get at least 2 quotes for a stone or ring.
Most suppliers' preferred method of contact is through alibaba.com via 'WeChat' or directly through a sales rep on WhatsApp. We do our best to keep all the rep's and their phone numbers updated. You can also make initial contact via email to get a quote and share inspiration photo's. Please be mindful of the time difference which can be 12+ hours if your timezone is EST.
Mona Fine Jewelry ($)
Whatsapp: +86 189 7740 5119
Email: xinzian1@gmail.com
Instagram
Etsy Shop
Provence Gem ($)
Alibaba: Provence Jewelry
Aliexpress: https://www.aliexpress.com/store/4747018
Official Website: www.provencegems.com
Email: sales@provencegems.com
Contacts/Sales Reps: Numbers are for whatsapp

Ruby: +86 13667845188, rubygao@provencegems.com, Instagram
Flora: +86 19127346848, flora@provencegems.com, Instagram
Olivia: +86 19127337458, oliviahuang@provencegems.com, Instagram
Amy: +86 19127338358, amy@provencegems.com, Instagram
Jason: +86 19127339258, Instagram
Jane: +86 18775049308, Instagram
Lucy: +86 19127348798, Instagram

Sunny: +86 19127347058, sunny@provencegems.com, Instagram
Eva: +86 19127341108, eva@provencegems.com, Instagram
Joyce: +86 19127340198, joyce@provencegems.com,Instagram
Connie: +8615707716684, connie@provencegems.com, Instagram
Starsgem ($)
Alibaba: Starsgem Co.
Team Photo and Contact: Team Photo
Ebay: starsgem8
Contacts/Sales Reps: Whatsapp and Email

Sales Manager Cherry: +86 189 7748 6191, sales@starsgem.com
Demi: +86 177 7740 7925, sales8@starsgem.com, Instagram
Jocie: +86 180 7806 6705, sales5@starsgem.com, Instagram,Instagram 2
Jamie: +86 135 5774 2352, sales6@starsgem.com, Instagram
Vivian: +86 189 7748 3523, sales7@starsgem.com
Rose: +86 180 7807 1351, sales4@starsgem.com, [Instagram]
Irene: +86 180 7806 7719, sales12@starsgem.com
Fiona: +86 180 0774 5079, sales2@starsgem.com, Instagram
Silvia: +86 181 7740 6275, sales11@starsgem.com, Instagram
Jessica: +86 181 7740 5297, sales15@starsgem.com, Instagram
Nancy: +86 191 2733 3109, sales17@starsgem.com, Instagram
Wendy: +86 191 2733 3106, sales14@starsgem.com, Instagram
Tianyu Gems ($)
Company Email: tianyu@tygems.com

jerrylu@tygems.com Contact: Ella
joycexie@tygems.com Contact: Emily

Whatsapp: +86 188 0774 2567

+86 188 0774 2567 Contact: Ella
+86 187 0774 5369 Contact: Emily

Alibaba: Tianyu Gems Company
Instagram:
tianyuella
tianyugems_emily
Holycome Moissanite ($)
Ada: WhatsApp +86 186 0774 8748
Summer: WhatsApp +86 186 7740 1196
Aliexpress: Holycome
Alibaba: Wuzhou Holycome Moissanite
XingYao Jewelry ($)
Stefan: WhatsApp +86 133 2488 9996
Email: xingyaogems123@gmail.com
Instagram: [https://instagram.com/xingyaojewelry?igshid=YmMyMTA2M2Y=]
XingYao Jewelry has been added to our vendor list. They have another IG account showing off more of their work but it includes replicas. This is a violation of sub rules so we can't post it to this list. You can also find them on Alibaba
Kuololit ($)
Sam: Whatsapp +86 185 0200 2685
Aliexpress: Kuololit
Alibaba: Guangzhou Xingxiang Jewelry Co.

Enter or mention discount code for $10 off $200: KTREDDIT01
Fiorese Gems ($)
Simon: Whatsapp +86 186 0774 9889
Email: sales@fioresegems.com
Instagram: fiorese_jewelry_official

Mention this discount code for $20 off or Free Shipping: Reddit20
Disclaimer: As of November 2020, please proceed with caution / use your best judgement moving forward with any projects with Fiorese & Kuololit. There have been multiple issues involving very long wait times, inability to fulfill orders as promised, and long lapses in communication. See sub posts for additional information. Will update and/or remove disclaimer when or if the issues are resolved. Since these (2) vendors have not been vetted for this sub, their contact information has been added for reference only.
United States
Alexander Sparks Jewelry $$
Website: https://www.alexandersparks.com/
Instagram: https://instagram.com/alexander.sparks?utm_medium=copy_link
Brilliant Earth $$
Website: https://www.brilliantearth.com
Instagram - https://instagram.com/brilliantearth?utm_medium=copy_link
Charles & Colvard $$
Website: https://www.charlesandcolvard.com/
Instagram: https://www.instagram.com/charlesandcolvard/
CVB Inspired Designs $$$
Etsy https://www.etsy.com/shop/CvBinspiredDesign
Instagram: https://instagram.com/cvb.inspired.design
deBebians $$
Website: https://debebians.com/
Instagram: https://www.instagram.com/debebians/
Distinctive Gem $$$
Website: https://www.augustvintageinc.net/
Instagram: https://www.instagram.com/distinctivegem/
Everelle Jewelry $
Website: https://everellejewelry.com/
Instagram: https://instagram.com/everellejewelry/
Text: (949) 414-9381
Fire & Brilliance $$
Website: https://fireandbrilliance.com/
Instagram: https://instagram.com/fireandbrilliance?utm_medium=copy_link
J Hollywood Designs $$
Website: http://www.jhollywooddesigns.com/
Instagram: https://www.instagram.com/jhollywooddesigns/
Lauren B Jewelry $$$
Instagram: https://www.instagram.com/laurenbjewelry/)
Website: https://www.laurenbjewelry.com/
Princess Bride Diamonds $$
Website: princessbridediamonds
Instagram: https://instagram.com/princessbridediamonds?utm_medium=copy_link
Rosado's Box $$
Etsy: https://www.etsy.com/shop/RosadosBox
Instagram: https://instagram.com/rosadosbox?utm_medium=copy_link
Scott Bonomo Diamonds $$
Website: https://www.woodbridgejewelry.com/
Etsy Page: https://www.etsy.com/shop/ScottBonomoDiamonds?
The True Gem Company $$
Website: https://thetruegem.com/
Instagram: https://www.instagram.com/thetruegemcompany/
YasamineCo $$
Website: https://www.yasamineco.com/
Instagram: https://instagram.com/yasamineco?utm_medium=copy_link
MoissaniteCo $$
Website: https://www.moissaniteco.com/
Instagram: https://www.instagram.com/moissaniteco/?hl=en
Gema&Co $$
Website: https://gemaandco.com/
Instagram: https://instagram.com/gemaandco?igshid=YmMyMTA2M2Y=
North American Lapidaires -contact for custom cut and orders:
https://www.reddit.com/r/SyntheticGemstones/wiki/vendors/navendors
Europe
My Moissanite (Netherlands)
Website: https://mymoissanite.nl/
Facebook: https://www.facebook.com/mymoissanite.nl
Instagram: @mymoissanite.nl - contact - info@mymoissanite.nl
United Kingdom
ForeverForLove on Etsy
Website: https://www.etsy.com/shop/ForeverForLove
Instagram: https://instagram.com/foreverforloveuk?utm_medium=copy_link
Lily Arkwright Moissanite
Website: https://lilyarkwright.com/
Instagram: https://www.instagram.com/lilyarkwrightuk/
MoissaniteCo UK
Website: https://moissanite.co.uk/
Instagram: Moissanite UK](https://www.instagram.com/moissaniteuk/
Canada
My Moissanite Accepts Custom Designs
Based in British Columbia. Sells Harro Gem.
Moissy Fine Jewelry Accepts Custom Designs
Based in Toronto. Sells Lux Moissanite (own brand), Charles & Colvard, SUPERNOVA, NEO, and Harro Gem.
Ring Come True Accepts Custom Designs
Based in Toronto. Sells Charles & Colvard, Harro Gem, NEO moissanite.
Australia
Moi Moi Fine Jewelry Accepts Custom Designs
Based in Sydney. Sells SUPERNOVA moissanite
I HEART MOISSANITES Accepts Custom Designs
Based in Sydney. Sells own brand of mossanite
Cullen Jewellery Accepts Custom Designs
Based in Melbourne. Sells Radiance Moissanite and lab diamonds
India
Diamondrensu ($) Accepts Custom Designs
Email: hello@diamondrensu.com
Etsy Shop Moissanite
Ebay Shop
Etsy Shop Lab diamond
Goldenbird Jewellery / Ouros Jewels ($) Accepts Custom Designs
Email: goldenbirdjewels@gmail.com Contact: Vijay Sarkheliya
Goldenbird Jewellery Etsy - Moissanite
OurosJewel Etsy - Lab Diamonds
Disclaimer - We have included this at the end of the vendor list to remind our subscribers that they are responsible for doing their own due diligence on each vendor, including checking the sub for reviews. Please be aware that this list is for 'recommended' sellers. It is a comprehensive list of those vendors that are willing to follow the rules/format that we have set forth on this sub. It is up to you to do your own research with regard to vendor quality through reviews on the platforms on which they sell. You can read through our 'Newbie Start Guide' and Best Practices before you get started. This does not include all moissanite or lab diamond vendors in the market. Some have declined to be part of our sub. If you have any questions, you can create a post or message the Mod's directly. Please feel free to share your CAD's for quality control and design checks/soliciting feedback from the community, and don't rush the process.
Moissanite Common FAQ
What is moissanite?

Moissanite is a mineral form of Silicon Carbide (SiC). It's extremely rare in its natural state (mostly in meteorites) and is usually produced in laboratories. It has many uses, but is known best as a diamond alternative. Wikipedia has a nice write up if you want to learn a little more.

Why is it a popular diamond alternative or diamond simulant?

First things first: Moissanite is not a diamond. Many people refer to is as a diamond simulant since it does not have the same material properties as a diamond (which is a mineral form of Carbon). Moissanite can be produced nearly colorless, has a Mohs hardness of 9.5, an a refractive index of 2.65; so slightly softer and more refractive than diamond. Moissanites are about 15%-18% lighter than diamonds so they cannot be sized based on weight (1ct, 1.5 ct). Instead, they are priced based on their measurements (6mm, 7.5mm).

What is the difference between a simulant and a synthetic?

Simulant: Stones that have similar optical characteristics as the gem that they're imitating. Synthetic: Stones that are the exact same material properties as the gem.

What is the best cut for moissanite rounds?

It depends on your preference. For those who prefer a more white sparkle effect (like a diamond), a Hearts & Arrows Cut would be best as it minimizes the double refraction and has a less splintery effect compared to a standard Brilliant Cut. There are typically 8 distinct arrows and hearts in the pattern. If you want to maximize a moissanite's fire and brillance, a Brilliant Cut is preferable. This cut has been described as having a discoball effect by some and is also splintery with its thin facets. See this video for a great comparison between the two cuts. An Old European Cut (OEC) is also a great choice if you prefer chunky facets with lots of soft pastel colors. Here is a comparison video between August Vintage's Hearts & Arrows Round and Old European Cut Round in different lightings.

What are some budget-friendly options for moissanite jewelry?

Working with Chinese vendors is the most affordable option for loose stones or complete rings. Out of the popular overseas suppliers here, you can expect Provence and Starsgem to be less expensive compared to Tianyu or Mona. Another option is to order loose stone(s) from a Chinese supplier and to purchase a Stuller setting (a widely used wholesaler for conventional settings). Most jewelers can order you one from their huge catalogue but make sure that they will be able to set the moissanite for you before committing. You can also buy second-hand (preloved) jewelry on Loupe Troop, Diamond Bistro or the Preloved Section at Pricescope (have to be logged in).
Moissanite Common Terms Glossary
Ct: ## Of Carats (Weight Of Moissanite)
K: ## Karat (Weight Of Gold, Such As 10k, 14k, Etc.)
ACC: Antique Cushion Cut / Cartier Cut
AV: August Vintage
BE: Brilliant Earth
BN: Blue Nile
C&C: Charles & Colvard
CAD: Computer Aided Design
CS: Customer Service
CZ: Cubic Zirconia
CCW: Constructive Criticism Welcome
DB: Diamond Bistro
DK: David Klass
F1: Forever One
H&A: Hearts & Arrows
ISO: In Search Of
LT: LoupeTroop
MG: MoneyGram
Mm: millimeter
Mod: Moderator
Moissy: Moissanite
OEC: Old European Cut
OMC: Old Mine Cut
OP: Original Poster (the user who started the post)
Pd: Palladium
Plat, PT: Platinum
PM: Private Message
PP: PayPal
PS: PriceScope
PSP: Pre-shipment Photos/Pictures
QC: Quality Control/Check
Rep: Replica
RG: Rose Gold
SA: Sales Associate
SG: StarsGem
SS, S925: Sterling Silver
WG: White Gold
WU: Western Union
YG: Yellow Gold
A Guide on Vgold, Gold & Buying Jewelry
Gold is designated with the symbol Au on the period table. It can build an empire or be the cause of its demise. There is no other precious metal that tantalizes humanity more than gold. The current price of gold however is neither friendly nor practical for your wallet. For those on a budget, it is a good thing there is replica gold.
Vgold is an alloy aka mixture of metals to look like real gold. Some say Vgold stands for "valuable" gold. However, V stands for vanadium, one of the metal that is added to the mixture to prevent corrosion. Since Vgold contains no actual gold, the price is low and therefore an attractive alternative for replica jewelry.
What is Vanadium?
Vanadium is a silvery white metal originally discovered in 1801 in Mexico and now mined mostly in North West China, Eastern Russia, and South Africa. Named after 'Vanadis' who is the Scandinavian Goddess of beauty, this metal can be used to form various multicolored beautiful compounds because of its ability to resist corrosion. Today, it is used to make steel alloys, redox batteries, and even pharmaceuticals.
Is it safe? Vanadium augments the effect of insulin and is used to treat diabetes. It is non-toxic but can cause kidney problem when ingested in large quantity. Uptake of vanadium in human is mainly ingested so there is no risk of your body absorbing vanadium from your jewelry.
Enter VGold
Since vanadium has an anti-corrosive property, it is not surprising to use it as an alloy material to make Vgold. Unlike traditional 14k/18k Gold, Vgold does not contain gold but is a mix alloy designs to have the same color and luster similar to traditional gold. Vgold should not fade over time but that also depends on the composition and quality which varies between different versions of Vgold. Here are some examples.
Golden yellow - copper 58.5%~68.5%, zinc 30%~40%, tin 1.5%, or copper 90%, aluminum 7%, nickel 3% …
Light golden yellow - copper 87.5%, zinc 12.5%, or copper 86.5%, zinc 12.5%, tin 1%
Golden red - copper 75%, zinc 22%, tin 2%, lead 1% …
Different Vgold in the market
There are many acronyms for different generations and blends of Vgold. The followings are the most popular.
V1 Gold This is the cheaper Vgold sold by most of our sellers. It weighs about 2/3 of the total the weight of 18k gold. The color is more yellow in YG or more pink in RG. This is noticeable when placed side by side with 18k or an authentic jewelry. However, you can get away with white gold version of Vgold. V1 Gold is often paired with cubic zirconia.
V2 Gold This is heavier than V1 and almost if not equivalent to 18kt in weight. It is more expensive than V1 and the color is more muted and closer to 18k in both YG and RG. It is often paired with Moissanite.
VK Gold This is V2 Gold with a layer of 18k. No one quite know how thick this 18k layer is. If you have dissected your VK Gold and know the measurement in micro or nanometer, please let us know.
VGold Wear and Tear
Quoted from a Chinese website regarding Vgold. "V gold is very similar to gold in color, and its anti-corrosion performance is slightly inferior to that of gold, and the weight ratio is basically consistent (90%) corrosion in the test box for 100 hours, it can still maintain a high gloss without basically discoloring; in the indoor environment, atmospheric corrosion basically does not change color for two years. Jewelry made of V gold material does not need gold plating, which not only saves a lot of gold for the country, but also avoids environmental pollution caused by cyanide"
However the reviews are mix. There are a handful of members with tarnished Vgold reviewed on the former RL sub. So far, newer generation V2 does not seem to have that problem. In the end, more data is needed especially from those who wear their Vgold on a daily basis for many years.
Last comment … While vanadium inspires the V in Vgold. Tungsten is also often used in Vgold for its anti-corrosive effect. This is just to throw a wrench at you for an already acronym-full and confusing saga that is Vgold.
Traditional Gold (9k, 10k , 14k, 18k, 22k, 24k)
When we talk about traditional gold Au, karat is the unit used to measure gold purity.
24k is 100% gold. 22k is 91.6% gold. 18k is 75% gold. 14k is 50% gold and so on …
There are different shades of gold depending on the karat as well as percentage of silver, copper, and zinc used to make the final product. This is particularly true for rose gold. Cartier rose gold is different from Tiffany rose gold.
The higher the karat, the softer the gold and the more your jewelry will patina (tiny dents and scratches over time). The lower the karat, the more likely your gold will tarnish. Anything below 14k has a higher likelihood of tarnishing. However, even at 9k you can easily buff out the tarnish with polishing cloth.
How much should I expect to pay?
18k rep is unique because it has an intrinsic gold value that you can recoup even if melted. The same cannot be said for handbags. You could potentially sell calf leather at $3-10 per square feet or gold at $1700 per oz. This means that unlike leather goods, you can actually gauge the price of 18k rep.
In general for 18k, expect to pay the cost of gold plus a markup of at least 150% or more for labor cost. The cost of labor varies greatly. If you walk into Van Cleef and Arpel boutique, expect to pay 1000% markup. In 18k rep, expect anywhere between 150-250% depending on the piece. For example, this Frivole pendant weighs at 20g and costs $1280 from XY but is $2150 from MC. Gold scrap value is $820 which means XY is charging at 150% more for labor cost vs MC charging 250% more. VCA is charging close to 1000% markup. Of course, quality, craftsmanship, and accuracy come into play when buying rep. So some MC 1:1 rep do justify the price.
Vgold is harder to price because it depends on the base metals used. However thanks to the mods, we have compiled a Luxelife Jewelry Pricing Transparency Reference where you can take a look at current pricing for all type of jewelry. Source